Levoglucosenone
Levoglucosenone is a highly dehydrated sugar that has been used in the preparation of chiral synthons such as (–)-y-multistriatin and (+)-Prelog—Djerassi lactonic acid.
Negative-form is a pyrolysis product of cellulose and cellulose-containing materials including pulp and paper waste products. Known as a pyrolytic product of cellulose, which is very useful as a chiral source for synthesizing natural products.
Levoglucosenone
| | |
| --- | --- |
| Density | 1.29 g/mL |
| Boiling Point | 57-57.5 °C / 0.5 mm |
CAS No:

37112-31-5

Synonyms:

1,6-Anhydro-3,4-dideoxy-a-D-glycero-hex-3-enopyranose-2-ulose
(1S,5R)-6,8-Dioxobicyclo[3.2.1]oct-2-en-4-one

Solubility:
Soluble in Chloroform
Physical Appearance:
Colorless to Yellow Oil
Chemical Formula:
Molecular Weight:

126.11

References:

1. Shafizadeh F, Furneaux R, Stevenson T, Carbohydr. Res. 1979 and Essig, M.G., et al.: Carbohydr. Res., 156, 225 (1986)
also Taniguchi, T., et al.: Synlett, 971 (1996),
Efficient levoglucosenone production
Shinji Kudo ,  et al, Green Chem., 2011,13, 3306-3311
DOI: 10.1039/C1GC15975E
http://pubs.rsc.org/en/Content/ArticleLanding/2011/GC/c1gc15975e    COPY PASTE LINK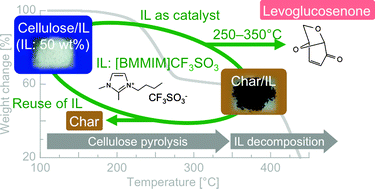 Levoglucosenone is a synthetically valuable and versatile compound that is present as a minor product of cellulose pyrolysis. Here, the paper  reports the catalytic pyrolysis of cellulose by mixing with 1-butyl-2,3-dimethylimidazolium triflate ionic liquid (IL), forming levoglucosenone in high yield. The catalysis of the IL was selectively directed to form levoglucosenone, while the low content of IL (50%) effectively prevented formation of char, leading to a yield near 20% even at 250 °C. The thermally stable IL could be fully recovered from the mixture pyrolyzed up to 300 °C and reutilized for pyrolysis.
See papers on levoglucosenone:
(1S,5R)-6,8-Dioxabicyclo[3.2.1]oct-2-en-4-one
M.S.Miftakhov, et al.
Levoglucosenone: the properties, reactions, and use in fine organic synthesis
Russ.Chem.Rev., 1994, 63 (10), 869-882
Herdewijn P, et al.
3′-substituted 2′,3′-dideoxynucleoside analogues as potential anti-HIV (HTLV-III/LAV) agents
J.Med.Chem., 1987, 30(8), 1270-1278
M.Jung and M.Kiankarimi
Synthesis of Methylene-Expanded 2′,3′-Dideoxyribonucleosides
J.Org.Chem., 1998, 63 (23), 8133-8144
http://levoglucosenone.com/derivatives/     COPY PASTE LINK